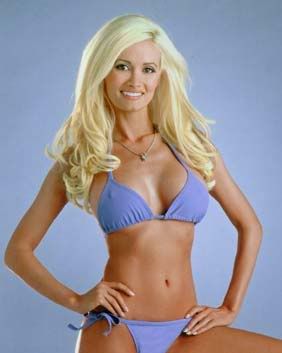 Holly Madison, remember her? She was on that show with the two other blonde whores who all slept with the same skeleton together?
Madison just insured her "moneymakers" for $1 Million Dollars. Her main reason according to her interview with People was her Las Vegas show, "Peepshow" in which she appears topless. 
"They're my primary money makers right now." Madison said. 
Sure Holly, I'm sure Hef loved you for your brains and not your "moneymakers"…
Not the only celebrity vain enough to take out insurance on a body part. Check out this site for more vain celebrities wasting their money.
Can you guess who insured their legs for a cool BILLION DOLLARS?